Here is the latest installment of my sporadic series of visits to sites associated with dead authors. Past visits have included the home and grave of Edgar Lee Masters in Petersburg, Illinois, places where Allen Ginsberg lived in Greenwich Village and in San Francisco, Jack London's estate (now a state park) in California, Washington Square Park in San Francisco, where Jack Kerouac drank port, and where a probably equally inebriated Richard Brautigan posed with his wife for the cover of
Trout Fishing in America
.
Shakespeare's Birthplace, Stratford-on-Avon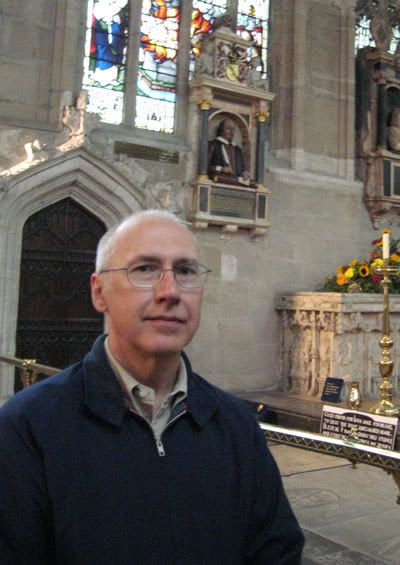 Shakespeare's Burial Site, Trinity Church, Stratford-on-Avon
Old Will is planted under the floor in front of the candlestick to my left. The stone at the head of the grave reads:
GOOD FREND FOR IESUS SAKE FORBEARE,
TO DIGG THE DVST ENCLOASED HEARE.
BLESTE BE YE MAN YT SPARES THES STONES,
AND CVRST BE HE YT MOVES MY BONES.