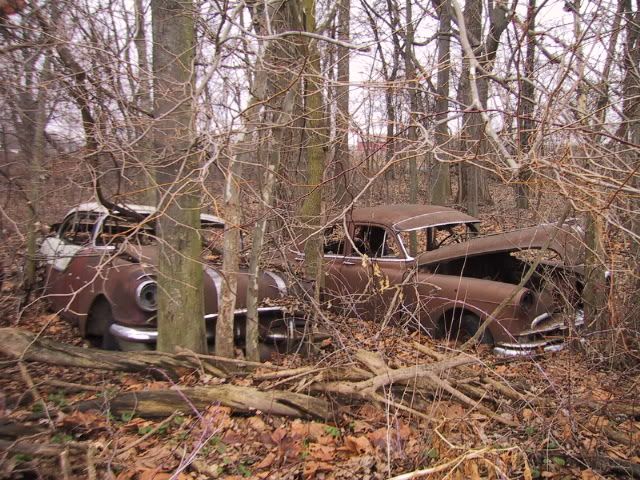 The Chieftains
The two Chieftains rest,
surrounded by trees
along a creek,
Eyeless,
headlights gone,
wheels gone,
bellies on the ground,
they face northeast, toward Detroit,
like blind pilgrims facing Mecca in prayer.

They are relics
of the twentieth century, named
for Native Americans
who were extinguished
to make way
for industry and agriculture,
for Henry Ford and Cyrus McCormick.
The vehicles' rusting chrome trim
once reflected
postwar American optimism.
Their substantial steel skins,
now pierced by hunter's bullets,
are dulled and corroded by the elements,
the once glossy brown of the older sedan
rendered into a palette
of umber, burnt sienna, and russet.
The white top of the newer two-tone two-door,
which gleamed in the fifties,
is now a dirty eggshell.
The lower surfaces
show only muted traces
of the original copper red
amidst the rust.
Helpless against
destructive human impulse,
the windows of both are shattered,
like all abandoned fenestrated artifacts
of civilization.
Exposed to man and nature,
only vestiges of the interiors remain--
tatters of upholstery, rusted springs.
There is no trace
of the cardboard shelves
behind the back seats
which, baked by sun
through the rear windows,
had emanated a peculiar dry aroma.
Gone are the hood ornaments
from these namesakes of Chief Pontiac--
in 1949
an amber translucent likeness of the chief
which morphed into a sleek faceless airplane
in 1955.
The enormous engines,
stripped of some components,
lifeless under skewed hoods—
the straight-eight Silver Streak
and the V-8 Strato Streak--
are monuments to
America's addiction
to fossil fuels.
One car carried me,
newly born,
home from the hospital,
the other to Little League games.
The Chieftains, like their drivers,
my parents,
roll no more
down life's highway,
but rest,
forever rest.
Originally published in
Children, Churches and Daddies
, Vol. 158, March 22, 2006